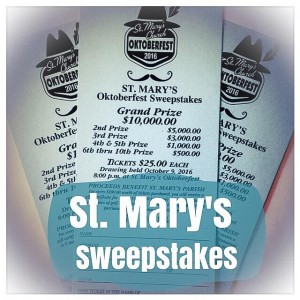 SWEEPSTAKES TICKETS 
are now on sale!
TICKETS ARE AVAILABLE FOR PURCHASE IN THE PARISH OFFICE. 519 E 4th Street, Alton, IL or 618-465-4284
PHONE ORDERS ACCEPTED WITH A CREDIT CARD PURCHASE.
$10,000 Sweepstakes Raffle!
$10,000 Grand Prize
$5,000 2nd Prize
$3,000 3rd Prize
$1,000 4th & 5th Prize
$500 6th – 10th Prize
Tickets $25 each. Proceeds benefit St. Mary's Parish.
May be purchased on the grounds or mail check with name, address and phone to parish office 519 E 4th St., Alton, IL, 62002, made to "St. Mary's Sweepstakes".
(Purchase 4 tickets and receive a 5th ticket FREE! Plus receive a $10 coupon for either Tony's Restaurant or 9-holes of golf at Rolling Hills Golf Club.)
Drawing 8 pm Sunday, Main Stage. Need not be present to win.